They say healthy is for the wealthy and we all know with everything considered it's pretty expensive to live as a student. So this week I thought I would hunt down some places in around campus that have good hearty meals that are not only great value but filling and super tasty, and this is what i found……
St Piers
Ok, for $5 their Chicken Katsu is both incredibly affordable and tastes great. In all honesty I have to admit quite a few of my days at uni have ended up here getting Katsu after a long lecture which is why I'm a big fan. It's super quick service considering the amount of people going through the store which means that all the food is fresh, constantly being made and sold on the spot. A top tip is to try Mochi, if your feeling adventurous it is a small rice ball that's very sweet and explodes with flavour in your mouth and gives you the boost you need to cram a bit more study into your day.
Munchy Mart
The Munchy Mart takes the top prize when it comes to bang for your buck with $6 stretching as far as a hot pie, a muffin and a bottle of water – $2 for each. Across the board you can find some great deals and being at the centre of the city campus it is easy for anyone to get to and also to stop off at between lectures. Well worth popping in and having a look.
Better Burger
Located in Britomart this Bar/Restaurant creates an awesome atmosphere for an amazing price of $5 a hamburger. There are two entrances, one for burgers and the other is for the bar with live music and some seriously unique drinks. Better Burger has a great vibe, ideal for anyone coming out of a late lecture looking for a place to chill or for someone wanting a meal before going into town. This is one of Auckland's little gems, and one I highly recommend checking out.
Revive Cafe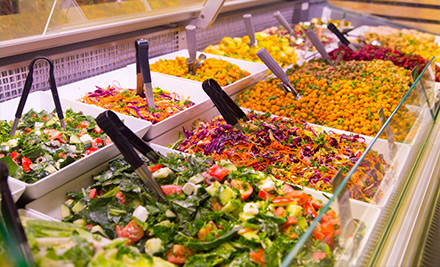 Easily the healthiest cafe on my list of go to places so far and it could be one of the healthiest cafes in Auckland. You'll find it in Wyndham Street and for $8 you will get a nutritious meal at any time breakfast, lunch or dinner. For those who are gluten free or vegetarian it can often be hard to eat on the cheap. But here with dozens of GF and V meals on offer you'll find yourself going back and back and back again because of its nutritious meals and outstanding price. The $8 option is the small box with two meal choices but I thought I would mention that for the regular box its $12 and its a big step up in portion size adding a 3rd choice. So if you need a nutritional boost, low GI and all that important stuff go check it out …. this place screams healthy.
Sensational Chicken 

And last but definitely not least, perfectly placed right outside O'Rorke Hall is this small kebab store which has a $5 menu, which consists of burgers, kebabs and chicken on rice. I would have to say I found the flavour of the chicken was fantastic, it was fresh, super tasty and for those living in the halls I can say that for the convenience and price Sensational Chicken is an absolute no-brainer.
So in short that's my top five and I find that after stretching my budget with a couple of lunch days of two minute noodles, these cafe meals are pure luxury without breaking the bank.

I'm a BMUS student, studying classical performance and loving it! I'm born and raised in Auckland and looking forward to sharing my experiences of uni life with you.

Latest posts by Matthew Kereama (see all)